"Gry i zabawy językowe - junior 1" - teacher's resources
Polish for children - games and classroom activities, elementary level
A set of 61 games which makes it possible to activate students, facilitates the practice of new grammatical structures, helps consolidate the vocabulary learned and naturally inspires speaking. Board games, puzzles, dominoes, pictures and dialogue cards are just a few of the suggestions to use in class. Many of them work great both when introducing new material and when revising old material. The attractive layout makes learning more pleasant, while laughter and good fun are integral parts of working with this publication.
Although "Gry i zabawy językowe - junior 1" has been created with learning together with "POLSKI krok po kroku – junior 1" in mind, it can successfully be used when working with other textbooks. An advantage of this publication is an extensive key (answers, examples of dialogues and descriptions), which will allow "working with games" for those who learn Polish on their own.

The laughter and fun, which accompany the games, are a guarantee of successful lessons!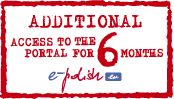 | | |
| --- | --- |
| Title | Gry i zabawy językowe - junior |
| ISBN | 978-83-941178-3-2 |
| author | Paulina Kuc, Iwona Stempek |
| type | teacher's materials, other |
| skills | writing, vocabulary practice, speaking, reading, grammar practice, pronunciation practice |
| number of pages | format | weight | 105 | A4 | 1420 grams |
download